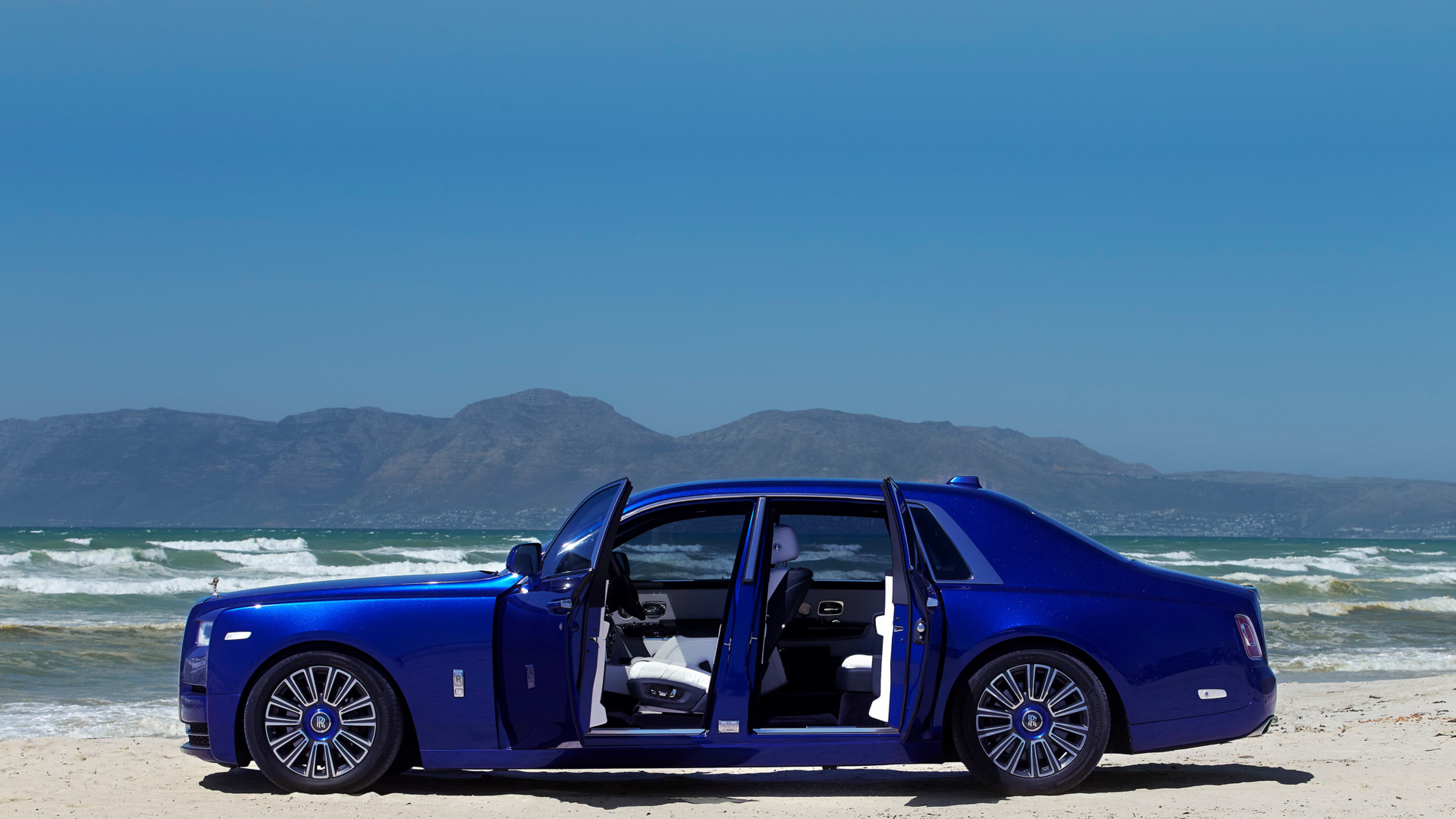 PHANTOM
AN EXTRAORDINARY PRESENCE
RULES REWRITTEN
Phantom is single-minded, abrupt, and unapologetic – a rejection of rules, preconceptions, and everything that's expected of it. There's nothing quite like the thrill of going against the grain. To reinvent the wheel. Disrupt the norms. Rip up the rule book. Phantom will be there for the ride.
AN ASTONISHING PRESENCE
An unmistakable aura. A presence that defies time itself. Phantom is the signature Rolls-Royce; an iconic and enduring interpretation of the modern motor car. In a world where uniqueness is rarely experienced, Phantom is unmatched.  Unleash your inner renegade. Phantom invigorates those who defy convention. With its rebellious aura, it's the ultimate icon, reinterpreted by icons.
MASTER OF YOUR DOMAIN
The icon, for icons. Phantom moves those who move the world.
REFINED. COMPOSED. ICONIC
The Phantom experience is anticipated. But it is never expected. This is a perfect, force-free equilibrium. A harmonious collaboration of rear-axle steering, active stabilization, and on-air suspension deliver a graceful, beautifully balanced drive.
THE LOUDEST SOUND IS YOUR HEARTBEAT
Inside the quietest Rolls-Royce ever created, the silence that rarest of joys is yours whenever you desire it. The quietest Rolls‑Royce ever created, the perfect foundation to create your own noise. Discreet placement of cutting‑edge technology ensures nothing detracts from the sheer pleasure of the exquisitely appointed Phantom Suite. So select your preference – silence or celebration?
Enhanced with discreet technology, the tranquil Phantom Suite is the epitome of contemporary luxury for those who understand that a whisper can be louder than a shout. In a world that tells you what to do, follow your instincts. Rolls‑Royce allows you to customize your Phantom to suit your personal preferences whether that's transporting your most prized possession…or adding another essential component you've envisioned.
Journey to the far reaches of your imagination.
STATURE COMES EFFORTLESSLY
It's a rare sense of scale that defines Phantom. Behind the Pantheon grille, this commanding presence is confirmed. Power is paramount to the driving experience. Phantom delivers seemingly limitless strength. Savour the rough with the smooth. Engineering and technology perform in harmonious collaboration, insulating from even the most challenging road conditions. Delivering a magnificently graceful drive for you to test the limits of your fearlessness.
THE IRRESISTIBLE GRAVITAS OF BESPOKE
The purest expression of Rolls-Royce presents new possibilities in Bespoke. The Gallery delivers limitless opportunities to showcase the finest artistry and materials. This is the pinnacle of personal expression. Phantom is sculpted in your image, not for your image. A sanctuary of peace and tranquility. Or a peerless venue for beats without a trace of background noise. Phantom is for those who hear what they desire – not what is imposed from the world outside.
The world's finest A-grade leather. Lambswool floormats that cosset the feet. Hand-crafted wood veneers please sight and touch. Master craftsmen have worked the finest materials to create a finish that is beyond exquisite.
YOUR PRIVATE GALLERY
This is the Phantom Suite. Your sanctum. Your space to rewrite the rules. The Rolls-Royce name has always been synonymous with the most exacting levels of craftsmanship. Now, Phantom raises this to new levels of artistry. A world-first in automotive design, a single panel of glass spans the entire fascia to house a unique Gallery displaying Bespoke artwork of your choice. Phantom is the canvas for your tastes and desires: the grain is yours to go with or against.
Sumptuous leather is tanned, stretched, shaped and lovingly stitched by master craftsmen. Once placed into Phantom it is complemented by handcrafted wood, lambswool, glass and artworks, creating a unity of luxuriance. And then you sit, and the world and the miles melt away. Beauty and comfort unite beneath the celestial canopy of Phantom's iconic Starlight Headliner. 1,344 individually placed fibre-optic stars shine through tiny perforations in Phantom's leather roof lining. Each can depict the constellations precisely as they were on any day in modern history, or arranged into any bespoke graphic pattern, and shine in any colour. The stars are yours to command. The most famous car clock in the world. Traditionally the only thing you hear in a Rolls-Royce, yet those rules are there to be rewritten. Iconic, exquisite, and unmistakably yours, with a bespoke frame and surround that blends in seamlessly with your own Gallery.
Powered footrests. Backlit mirror. Fingertip controls. Privacy buttons with the Privacy Suite. Meticulous attention to detail combines with stunning design to create Phantom's interior.
Phantom is a work of art. Your Phantom is one of one.
*PRICE(S) INCLUDE(S) ALL COSTS TO BE PAID BY A CONSUMER, EXCEPT FOR $497 DOCUMENTATION FEE, LICENSING COST, REGISTRATION FEES, AND TAXES.
CURRENTLY, FC KERBECK DOES NOT SELL OR LEASE CARS IN THE STATES OF MT, OR, NH OR AK, SORRY FOR ANY INCONVENIENCE. FC KERBECK MAKES EVERY EFFORT TO PROVIDE FULL AND ACCURATE INFORMATION. HOWEVER, BECAUSE ERRORS MAY OCCUR, PLEASE CONTACT US TO VERIFY OPTIONS, PRICES AND REBATE/INCENTIVE INFORMATION BEFORE PURCHASING. ALL VEHICLES ARE SUBJECT TO PRIOR SALE. ALL NEW VEHICLE PRICES INCLUDE THE DESTINATION CHARGE (FREIGHT COST). ALL PRICES EXCLUDE STATE TAXES AND FEES, MOTOR VEHICLE REGISTRATION CHARGES, AND PROCESSING FEES. ALL TAXES AND FEES WILL BE PAID TO THE LEGALLY APPROPRIATE STATES. PRICES MAY NOT BE COMBINED WITH ANY OTHER PAST, PRESENT, OR FUTURE OFFERS OR ADVERTISED PROMOTIONS OR SPECIALS. PRIOR SALES, INBOUND AND ORDERED VEHICLES EXCLUDED FROM CURRENT PRICE OFFERS. SALE TO ULTIMATE RETAIL CONSUMER ONLY, ONE VEHICLE PER CUSTOMER. NO SALE OR LEASE TO AUTO DEALERS, DEALER'S AGENTS, MANAGEMENT, SALES STAFF OR EMPLOYEES OF DEALERS, LEASING COMPANIES, BROKERS, EXPORTERS, ETC. NO SALE TO ANY PERSON OR COMPANY APPEARING ON ANY EXPORT LIST OR WHICH HAS THE SAME ADDRESS AS ANY PERSON OR COMPANY APPEARING ON ANY EXPORT LIST. TO THAT SAME END, FC KERBECK RESERVES THE RIGHT, AT ANY POINT DURING A TRANSACTION, TO PREVENT SALE TO ANY PERSON OR COMPANY THAT MAY NOT BE A PERMANENT RESIDENT OF THE US, MAY LIVE OR WORK OUTSIDE OF THE US
We disclose every pre-owned vehicle with a minimum of $1000 prior repairs, when most dealers fail to disclose any/all repairs. Our goal is to provide you with the details of the vehicles history so you can buy with confidence here at Kerbeck.
BBB RATING: A+
HOURS OF OPERATION:
Monday-Friday: 9:00AM - 8:00PM
Saturday: 9:00AM - 6:00PM